While all of our product colors below are shown to the best of our ability, there may still be variations
in the color of our product as each color may look different on various viewing screens.
After adding item(s) to the cart, you will have the option to pay by credit card.

We can only ship these finishes to places inside of the U.S.A.

For best finishing techniques and procedures please contact us by email.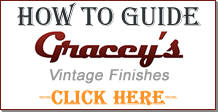 Our aerosol cans must be shipped by ground due to being a hazardous material. We use UPS Ground so please keep that in mind. We take great pride in our customer service and usually ship the same or next day.
Gracey's Vintage Finishes is in no way affiliated with ANY other paint manufacturer. All products and materials are specially designed for Gracey's Vintage Finishes. We have no ties and no connections with any other paint company. If you need a color that is not shown, please email us.